Aspire2Summit are pleased to announce another successful expedition to the highest peak in the Atlas Mountains – Toubkal.    One of our clients has kindly written a blog about her experiences and views  –
On top of the highest Mountain in North Africa!
After a difficult 6 months or so with our business moving to a new location, it was getting nearer and nearer to the departure date of my most adventurous trip.  Fitting in training and time on my feet was very difficult with everything else going on and there was no I could tell if I could cope with the altitude living in a relatively flat Leicestershire. May 12th in the evening we met up with our two leaders Ken and Dan, who are experienced mountain leaders of Aspire2Summit at Luton Airport for our evening flight to Marrakech in Morocco. Armed with masses of new kit (as go-outdoors is only round the corner!) my fit friend Kat and I were giggly and excited and did our best to hide the nerves that we also felt.
  We arrived late on in the evening to a soaring temperature of 41 degrees which was not helped by a trip of 17 of us in a minibus minus air conditioning.  Our couple of hour road trip to Imlil prepared us for road rage beyond belief.  Our lovely Riad was already at 3000ft high, but the roof top terrace dining table was the perfect place to introduces ourselves to our fellow trekkers. Dan and Ken gave us a full briefing for our climb of the highest peak in North Africa, Toubkal which is in the Atlas range.  They also took our vital statistics to ensure we would be able to cope with the 4167m climb we were about to encounter over the next couple of days. After a delicious breakfast and in hindsight one we should have savoured, the party set off walking to our next nights accommodation.  The Mouflon Hut when we finally arrived was no way my idea of a hut.  Simple but huge and also very dark, the staff we very accommodating. Maybe as Aspire2Summit were now regulars to this venue we got preferential treatment?! By that I mean 17 of us ranging from 14 up to 54 and of both sexes had to share a dormitory for the next couple of nights.  And if you didn't know your sleeping neighbours before the lovely long walk we had just taken, you soon did!!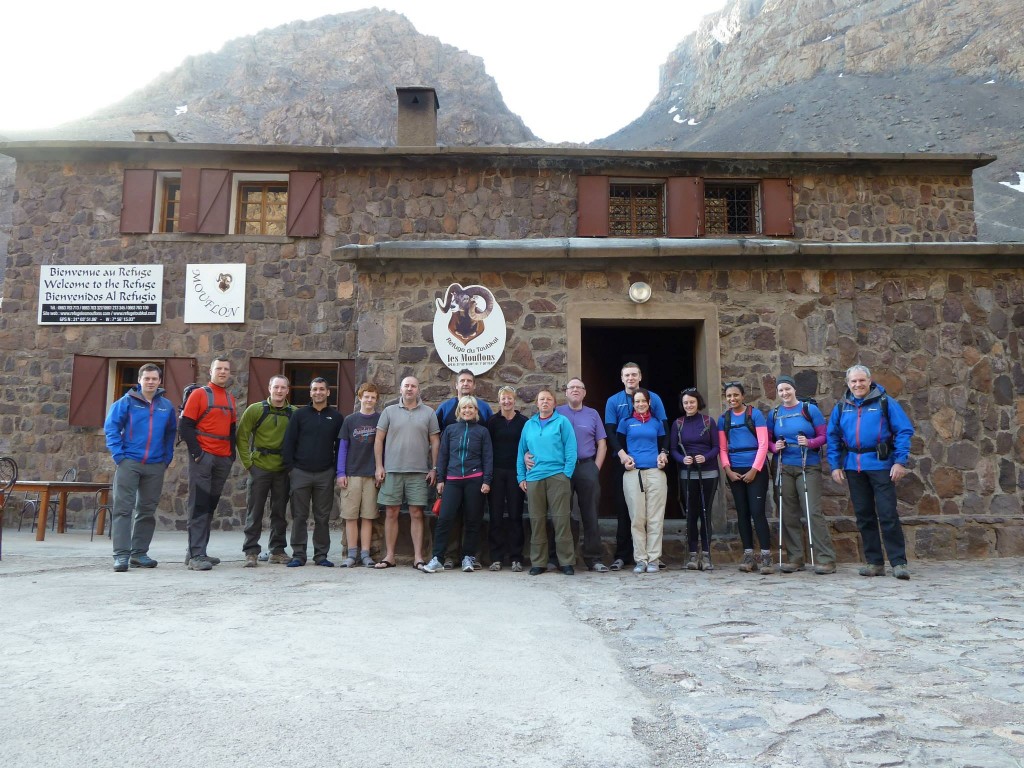 Summit Day to Toubkal was an early affair, setting off in two manageable groups spirits were good. Rough terrain, snow fields and the Mouflon goats to keep us company on the first leg we soon all met up just below 4000m for lunch and some of the harmless banter that had quickly become the norm. Then it was time for the last push.  Slow and plodding was the pace and for me also quite emotional.  These guys had become great friends and motivators in such a short time. As we reached the summit, the sun started to fade and the snow storm was brewing all around us.  The views were breath-taking none the less and we were the only group up on the Toubkal summit. The journey down was somewhat more eventful, under foot being very slippery.  I even managed to use my survival bag. Not for its purpose but for sledging with a friend down the snow fields to save our poor knees! With the last few of the mountain, we were treated to yet another Tagine of chicken and vegetables and copious amounts of sweet mint tea.  This time the showers were hot so by the time we were in bed at 9.30 we were well and truly ready. The descent the last day was quick and easy and even managed to take over some of the mules carrying the supplies up and down the mountain.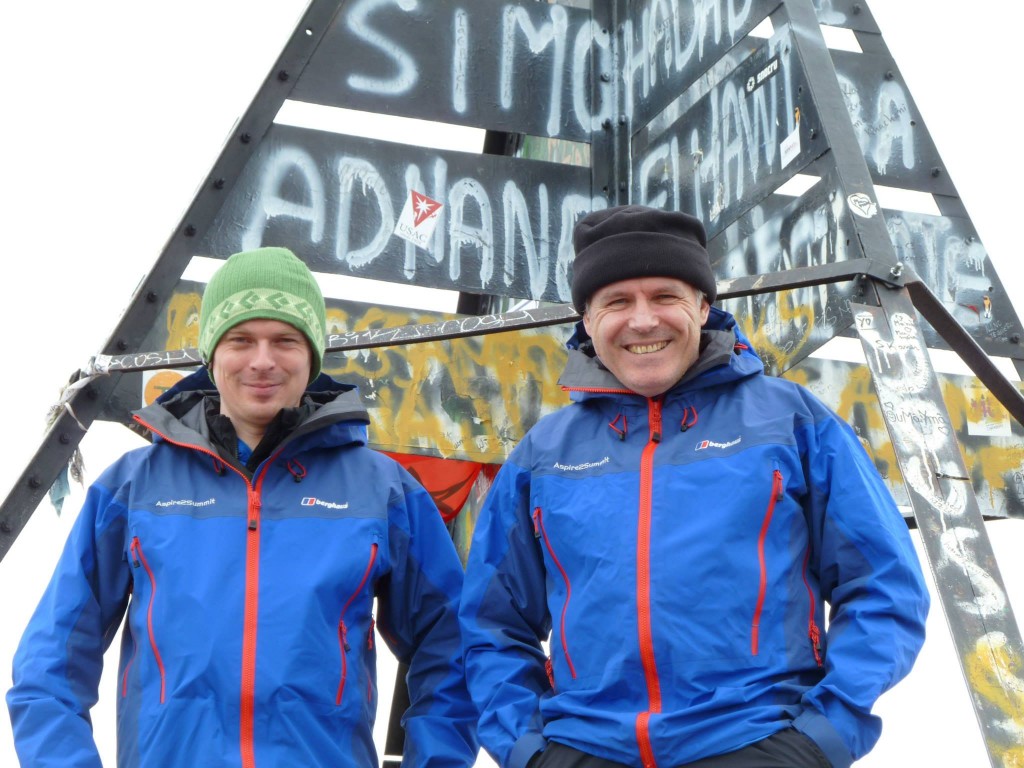 Our two guides then took us to experience (and we certainly did) the sights, sounds and culture of Marrakech. Dining out in the square, Dan and Ken gave us confidence to just follow and do as they did.  That evening we slept in comfort away from the hustle and bustle but only a short walk.  A special treat after the last 3 days, with hot showers, comfy beds and a lovely tiny pool to cool off in.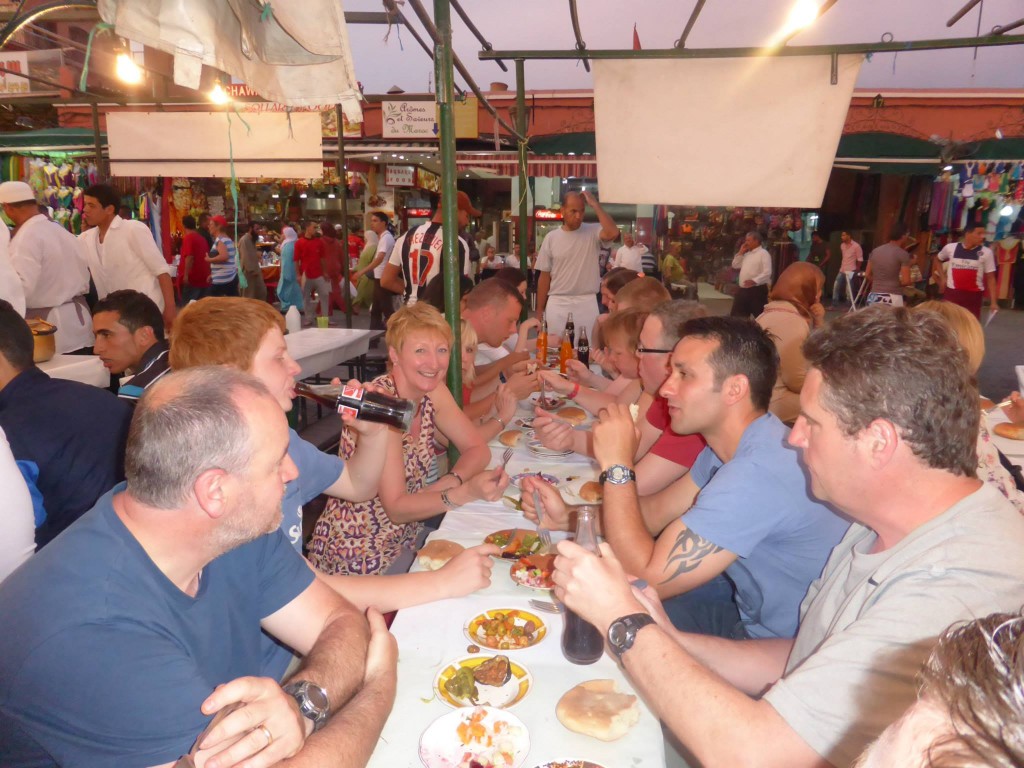 So after reading this, you fancy an adventure, with great company, new friends and trustworthy professionals then I certainly recommend you look at theAspire2Summit website for inspiration.
It was definitely the best experience (not holiday) I've had. That fact that I am signing up for another trip speaks louder than any of this Blog! Go on. You can do it. Claire Thanks Claire!   (original blog – http://www.westermans.com/blog/amazing-adventures-in-morocco/)