Atlas Mountain Expedition
11th – 15th May 2015 – Atlas Mountains, Morocco – £450
Join us on our 5 day trek to the summit of Toubkal (4167m), the highest peak in the Atlas Mountains.
Toubkal is an ideal first 4000m + peak due to its location and technical grading; also experiencing the contrast between the rural Berber life and the buzz of Marrakech. Toubkal should be on every walkers tick list be it summer or winter.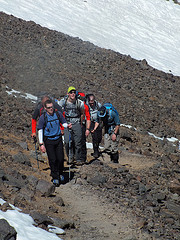 All our previous expeditions have a 100% summit success rate and are led by two qualified Mountain Leaders who have extensive experience of climbing and trekking above this altitude in Europe, North and Central America, Africa and Asia.
The expedition starts from the airport, where you will be transported to the mountain village of Imlil. The following day we start the trek past the village of Aremd and begin the ascent to the Sidi Chamharouch mosque (2350m); renowned for its mystical healing powers, thousands of Moroccans each year make the pilgrimage looking for spiritual and physical healing. After a short break we continue onto the Moulfons hut – which will be our base for the next 2 nights. Situated at 3205m you may experience the effects of altitude, but there will be ample time to rest and enjoy an evening meal before our summit attempt the next morning.
After breakfast we venture out eastwards onto the Toubkal massif, eventually ascending the south west ridge onto the summit of Toubkal. After photos at the Pyramid and views towards the Sahara we return back to the Moulfons hut overnight before trekking out back to the village of Imlil the next day.
After arriving at Imlil, we pick up our transport to Marrakech and that evening eat out in the famous Jemaa el Fna square and experience the sights and sounds that Marrakech has to offer.
The next day time is available to enjoy the souks and barter for gifts, or enjoy a relaxing massage at the Riad before flying home.
What we provide – Guiding, first aid capability, all transport in Morocco, 2 nights accommodation in a Riad, 2 nights accommodation in a mountain hut, all main meals
whilst in accommodation.
What you will need – Return flights, personal equipment, insurance and a sense of adventure!
Find us on Facebook; website – www.aspire2summit.com; email – *protected email* or phone Ken on 07928 741 731